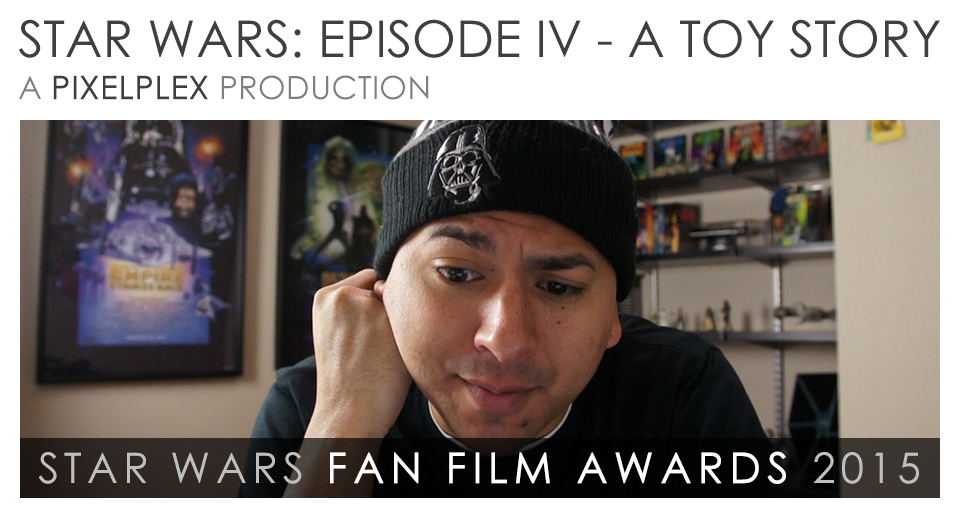 We interviewed Raymond Montemayor, electrical engineer turned successful filmmaker, we asked him about his film, Star Wars: A Toy Story, and his experience as he made his film. We learned how he was able to balance the many hats he wore as a one-man production team and even learned about his collection of vintage toys.
Could you tell what Star Wars: A Toy Story is about?
It's a story about a Star Wars fanatic, Lucas, who decides to sell his Star Wars toy collection to keep his overbearing girlfriend, Annie, happy. She doesn't understand his Star Wars fandom and thinks he's immature. Annie gives him an ultimatum to choose her or Star Wars. An unbelievable adventure with his toys makes Lucas realize that he doesn't need to change for anyone. This film was produced for the 2015 Star Wars Fan Film Awards, which imposed a five-minute time limit. With such a short film, I wanted to tell a simple story about that feeling many hardcore Star Wars fans (or fans of anything for that matter) get, where we feel like there may not be someone special out there for us who can understand our fandom. The message I wanted to give is that we should all be ourselves and not compromise for anyone.
The credit show you wearing several hats in this production. How was the experience in being a one-man production team?
It was challenging to say the least! I intentionally took on as many roles as possible to immerse myself in the process of film making from start to finish. I didn't go to film school, and everything I know about motion graphics and visual effects was self-taught. I wanted to learn the hard way about everything I didn't know about making a film. I also wanted to minimize the number of people that might be embarrassed if this project turned out to be a bust! Except for acting, I did every job required to produce and promote this short film. The roles I took on were writer, producer, director, casting, director, set design, cinematographer, audio engineer, editor, animator, visual effects artist, colorist, and sound designer. I also coded and maintain our official website, as well as promote our film through social media and film festivals. I had the fortune of getting help from the good folks at Grijalva Films (Carlos Grijalva and Robbie Tharp) filming our shots at Balboa Park. There were a lot of technical things I had to pick up in a short amount of time, and I learned just enough to be able to produce the film in time for the submission deadline. Despite all of my preparation, it was certainly stressful at times as I was figuring things out on the fly. I still have a lot to learn, but it has been a tremendous learning experience so far, and I'm glad I decided to take on so much myself.
Star Wars: A Toy Story was produced by PixelPlex. Who is PixelPlex?
I am PixelPlex! Technically, PixelPlex®, LLC is the company I formed to run my freelance business, through which I provide services in motion graphics, visual effects, 3D animation, and other creative services. It's a one-man operation which I founded in 2012 after making a change from my previous career as an electrical engineer.
The animation was impressive. How was the process?
Thanks for the kind words! By the time we completed filming all our shots, I only had three days to complete post-production, including all the visual effects. The process was quite stressful, and I only slept for a few hours during those three days. Regardless of the time constraint, the animation was challenging. We used two types of animation, computer animation using 3D computer models and stop-motion animation using Star Wars action figures. I used computer animation for the toy ships in the police car chase. I was able to do this fairly efficiently thanks to my experience with computer animation for my client work through PixelPlex. Due to time constraints, I decided to license 3D models of the ships rather than try to model them myself. I used Adobe After Effects and a plug-in from Video Copilot called Element 3D for all the computer animation and compositing with the live-action footage. The stop-motion animation was a completely different story. I had no prior experience with stop-motion animation, so I had to quickly get up to speed, which I was able to do thanks YouTube! The main challenge is that Star Wars action figures are not made for stop-motion animation. Real stop-motion puppets have metallic armatures, which are basically skeletons with ball joints that are highly articulate and poseable, around which the puppets are built up. Toy action figures have no such internal structure. They're molded pieces of plastic held together by various types of joints, which typically have limited motion and are difficult to move smoothly in small increments. The toys I used in particular had very few points of articulation. Because of this, I stayed away from trying to animate the figures walking; I only shot and animated from the waist up. I also re-used shots as much as possible, in particular the interaction between Luke Skywalker and R2-D2 in front of the computer. Shots with short lines of dialogue were fairly simple to do, such as the exchanges amongst Han Solo, Princess Leia, and C-3PO. A little bit of high-quality stop motion in these cases went a long way. The real magic happened once we married the animations to the voices of our actors.
Whose action figure and paraphernalia collection was used in this film?
All of the Star Wars items in the film are from my personal collection. Most of the items I've had for decades, such as the posters, books, comic books, and many of the toys. Whatever Star Wars items I had from my childhood are long gone unfortunately. I started re-collecting in the mid-90's when the expanded universe novels, comic books, and video games started taking off. When the Special Edition Trilogy was released in theaters in the late 90's I began collecting action figures once again. Those films led to the Prequels, for which I also collected various items, and it continues from there. I had to purchase a few items specifically for the film to support the story, in particular the TIE Fighter and the Princess Leia action figure. The only Star Wars items in the film that aren't mine are the clothing. Our lead actor, Edwin Frank Ortiz, happened to have a nice collection of Star Wars themed clothing from Adidas which he wore for the film. I supplemented that by purchasing a Star Wars beanie for him to wear. Our lead actress, Taylor Koster, bought a vintage t-shirt featuring The Empire Strikes Back for the film.
Were the voices dubbed by your actors, or did you take snippets from the original Star Wars films?
The voices used for the toys were all original recordings by our actors. I wanted viewers to feel a bit of nostalgia for the original Star Wars film, so wherever possible I used lines verbatim from A New Hope that would fit our story. Taylor did double duty voicing Princess Leia (as well as Annie on the phone at the beginning of the film). Our Director of Photography for our shoot at Balboa Park, Rob Tharp, voiced Luke Skywalker's character. The voiceovers for the rest of the toys were provided by a very talented actor, Robert Nixon. He did the voices for Han Solo, Darth Vader, Obi-Wan Kenobi, and C-3PO. He spent a lot of time listening to audio references from A New Hope, and he did a wonderful job mimicking Harrison Ford, James Earl Jones, Alec Guinness, and Anthony Daniels.
Where else has your film been screened?
So far we have screened at the following film festivals: The Star Wars Fan Film Awards at StarWars.com (March 9 – 27, 2015)
The San Diego CityBeat Five Minute Film Festival (September 3, 2015)
The ZedFest Film Festival in Burbank, CA (November 5 – 8, 2015)
The Rhode Island Comic-Con Film Festival (November 6 – 8, 2015)
The San Diego Fall Film Festival (November 13 – 15, 2015)
#TheForceAwakens Fan Video Challenge at TentSquare.com (Nov. 23, 2015 – Dec. 28, 2016)
The Super Geek Film Festival at Magic City Comic Con in Miami, FL (January 15 – 17, 2016)
The Long Beach Comic Expo (February 20 – 21, 2016)
The FanFilm Awards in Los Angeles, CA (February 27, 2016)
The FirstGlance Film Festival Los Angeles 2016 Shorts Online contest (April 18 – May 17, 2016)
We are scheduled to screen at the following film festivals through the end of 2016:
MegaCon Orlando (May 26 – 29, 2016)
FanExpo Dallas (June 3 – 5, 2016)
SuperToyCon in Las Vegas, NV (August 5 – 7, 2016)
FanExpo Canada in Toronto (September 1 – 4, 2016)
Rose City Comic Con in Portland, OR (September 10 – 11, 2016)
Long Beach Comic Con (September 17 – 18, 2016)
New York Comic Con (October 6 – 9, 2016)
Phoenix Comic Con (October 22 – 23, 2016)
Stan Lee's Comikaze in Los Angeles, CA (October 28 – 30, 2016)
Tucson Comic Con (November 4 – 6, 2016)
New Jersey Comic Expo (November 19 -20, 2016)
We've submitted to and are still waiting to hear back from Gen Con in Indianapolis, The ZONE Sci-Fan
Film Festival in Houston, and San Diego Comic Con.
Where can we find more of your films?
Star Wars: A Story was my first short film. I'm currently producing a sequel, Star Wars: The Toys Awaken, which we're targeting to release this summer just before San Diego Comic Con. You'll be able to find it at my Star Wars fan film website (
http://starwars.pixelplex.com
) as well as on my business website (
http://www.pixelplex.com
). Viewers can subscribe to my YouTube channel for all my latest Star Wars fan films, including trailers, behind the scenes footage, and more (
http://bit.ly/1QpAP0d
). I'm also in the beginning stages of planning a series of 1-minute stop-motion short films which I'll be publishing on these same sites. In the long-term I'm planning to develop an original sci-fi / horror feature film. You can stay up-to- date on all the latest projects by following us on social media.
Instagram: @starwarstoystories